On June 16, 2020, we e-mailed this update to all of our contributors:
---
Thank You!
Thanks to you and almost 1,000 other patrons, Pacific Swing Dance Foundation has collected just over $85,000 to aid full-time swing dance artists who've had their income affected by COVID-19. As far as we know, this is an unprecedented accomplishment in the modern swing dance scene and we could not have done it without you.
We want to give you a brief update on the status of the Rhythm Relief Fundraiser and Aid project.
As of this writing, we've collected $86,738.19 from 977 contributors. In our first round, we awarded 39 grants totaling $40,000. We will begin sending out our second round grants this week to 23 recipients totaling $23,000. In addition, we paid $13,200 to the 39 members of our performance and production team—almost all of them full-time swing dance instructors or musicians. The recipients of these grants are from all over the world and most of them are well-known.
After other production costs (like credit card processing and minor equipment costs) we are left with a reserve of just under $10,000. That remaining money will be spent on additional production costs and any amount remaining will be applied to additional grants.
Last week, we took delivery of our first run of enamel pins for Patrons who contributed $50-or-more and we'll begin sending those out in the coming weeks.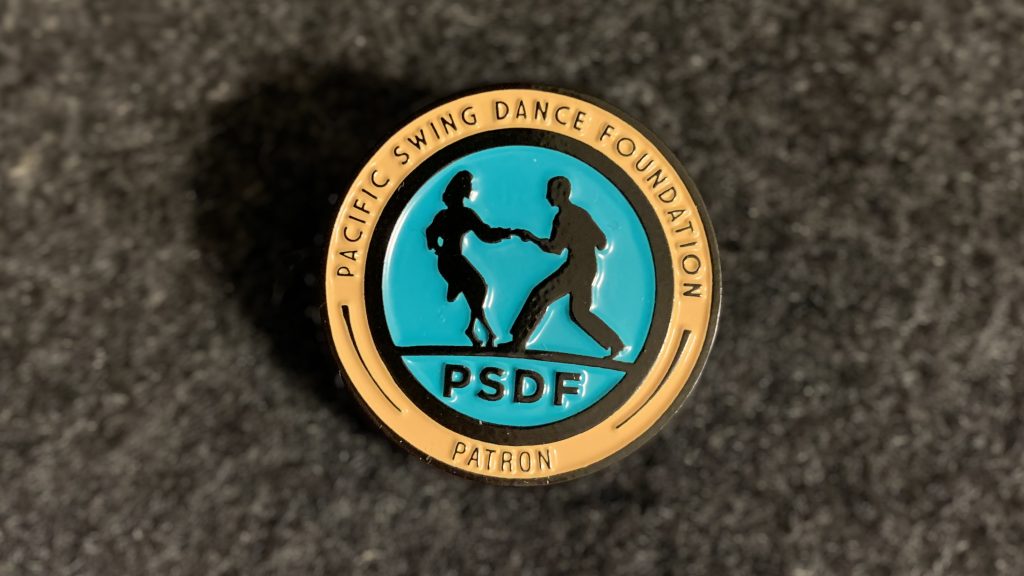 Help us grow!
Pacific Swing Dance Foundation worked with Nick Williams to help organize the Rhythm Relief Fundraiser, but we also run California Balboa Classic, the Pacific Swing Dance Archive, and during COVID-19 we are providing free professional Zoom access to artists who need to livestream their classes. Although we're a young organization, we have big plans and we need your help to grow. Some actions you can take now are:
Purchase a Rhythm Relief Digital Video Download or EP—100% of the revenue from those purchases goes into the Rhythm Relief Fund.
Help the Rhythm Relief fund reach $100k with an additional donation.
Contribute to the PSDF Operations Fund or the PSDF Living History Project. PSDF is already planning for California Balboa Classic 2021 and we expect it to be our most challenging year. Every dollar helps keeps us afloat and puts us in a position to provide an amazing experience—in whatever form that takes next January.
Follow us on Facebookor, better yet, tell your friends about PSDF and/or the Rhythm Relief Fund. If you, and every other contributor, help us expand our audience and attract new contributors, our organization can grow and expand our mission.
Volunteer! At this time PSDF particularly needs help from people who can offer professional services like bookkeeping, accounting, legal services, marketing, video and audio production, administrative assistance, and grant writing.
Above all, stay healthy and keep participating in the swing scene.
---
If you'd like to receive occasional updates from PSDF direct to your inbox, please register for our mailing list.